Recently Posted
Subscribe to RSS
Viva Las Vegas
Posted on April 23, 2009 by Robert Hess
Las Vegas is an enigmatic city. It has a little bit of something for everybody, and you can often not tell what hidden treasures, or surprises, might exist right below the surface. Over the last decade, it has been gradually taking on the mantel of the grand cuisines of the world. Name any top chef, and chances are you will find them represented by some restaurant scattered around the city. You will also find many fine local family-owned restaurants, from Woo's in the grand new Palazzo Casino and Resort, to Nora's Cuisine in a little strip mall several miles from The Strip.

Where you find great food, it should only follow that you should also find great cocktails. Many of the same culinary sensibilities apply to both food and cocktails, all it takes is somebody to support and maintain the craftsmanship, attention to detail, and belief in using great ingredients. Such is rarely the case however, so it should prove as no surprise that on many of my trips through Las Vegas I come away with little in the way of redeeming cocktailian experiences. On a recent trip however, I had a few surprises. One of them specifically tied to my show "The Cocktail Spirit" here on Small Screen Network.

In preparing for my trips, I often will ask around to try to get some recommendations on places worth checking out. There were a few people who recommended the bar at the "Artisan" hotel. Eventually I had a break in my schedule and hailed a cab and made my way out there. Little was I to know that this would be an extremely enigmatic experience.

Most visitors to Las Vegas will spend most of their time tied strictly to "the strip", and for good reason, it is within easy reach of where almost all the excitement is happening. Stray off of the strip, even by just a few blocks, and things can change quite a bit. After the taxi drove up the main drag for a while, it veered off at Sahara, and quickly the buildings got shorter, older, and with far less glitz and glimmer. As we pulled up into what was apparently the hotel parking lot, the first thing that struck me was that it was empty, even with a sense of abandonment. I was concerned perhaps that the taxi driver misunderstood the address I gave him or perhaps that the hotel had gone out of business many months ago and my sources just hadn't been updated yet. Fortunately, things were nowhere near as dire. As we approached the main entry, signs of life and hints of the enigma began to surface, with two elegant brass canine statues maintaining vigil at the doorway.

Entering from the full sun of outdoors, I was momentarily blind within the darkened interior. Gone were the flashing signs, bright neon, and other over stimulating interiors which were the norm for this city. Replacing it was dark wood, stone, and artwork – lots and lots of artwork. There were no big blaring signs guiding me to my destination, and so I had to ask at the reception desk where the bar was, I had passed right by its entryway on my way to ask directions. It was likewise opulently furnished with artwork, including a ceiling festooned with countless paintings in large ornate frames. It was still relatively early, and so the bar was almost totally empty.

Taking a seat at the bar, the lovely bartender soon approached and took my order. Of course, I ordered an Old Fashioned as my first drink (For those who don't know me, an "Old Fashioned" is always my first drink from any new bartender). I watched as she carefully prepared it off on the side. I saw her make virtually all of the mistakes that I often see bartenders torture this fine drink with. She left out the bitters, she heavily muddled the orange and cherry, and she put nearly an ounce of water from the gun in it, appeared to barely put any whiskey in it, and then topped it off with a couple ounces of soda. So it was with little surprise that the drink I was served was perhaps one of the worst Old Fashioned's I had ever had. At least the ambiance with relaxing and enjoyable.

As you might expect however, this was not the end of the experience. Here is where things take a decidedly surreal turn.

Sitting there, sipping on my reputed Old Fashioned, I noticed a lovely lady walk into the bar, wearing a rather odd looking outfit. She made a beeline straight for me and asked if I could help her out by taking some photos of her wedding party in the chapel (That's her on the left in the photo). Leaving my drink at the bar, I followed her to the chapel, where two of her friends were waiting, wearing equally unusual attire. Come to find out that she was a clothing designer, and she was just getting some photos, using the unique settings around the Artisan hotel as a backdrop.

I returned to my seat at the bar, and continued with my Old Fashioned. Apparently the next shift was getting ready to come on, as a new guy was coming behind the bar and was starting to adjust the setup a bit before he got to work. He glanced up as he passed me, and continued on for about a step and a half. He then stopped dead in his tracks, took another look at me, and went into a panic.

"Oh my god! Oh my god! I've got to call Tom. He won't believe it!"

Throughout all of this, the other bartender, who had been serving me, stood there a little dumbfounded wondering what was going on.

Carey (the new bartender) eventually got over his shock and came over and introduced himself to me. It appears as though they have been using "The Cocktail Spirit" as one of their training aids for their bartenders. So you can imagine his surprise as suddenly, the person they'd been watching on video for months, suddenly is sitting at their bar unannounced.

He asked me how my drink was, and I leveled with him. He explained that this was a brand-new bartender, who hadn't yet gone through staff training yet, which explains why she didn't recognize me, and why my drink was so bad. Carey made the rest of my drinks for the evening, and they were all excellent. Tom eventually swung by, it was his night off and he had other meetings to go to, but he had to drop in to introduce himself and get my thoughts and impressions on how they were doing. Frankly, I think they are doing a great job, even despite my "first drink" experience.

This was not however the end of the strangeness. The bar, which had been virtually empty until now, suddenly sprang to life, as customers just suddenly started appearing. Apparently there was some sort of "networking" event that was taking place. A group which met at different bars around the city during their "Happy Hour" had decided to meet at the Artisan bar today. As is often the case with strictly "Happy Hour" crowds, the drink conversation around me was focused more on trying to figure out exactly what drinks were the cheapest, and then being extremely picky and critical about every aspect of the drinks they were served. Thankfully, my evening was coming to a close by this time, and I made my adieus.

The results of this visit were that I discovered a Las Vegas bar which indeed deserves a visit on any future trips down there, and if the rooms at the Artisan have even a fraction of the appeal of the rest of the hotel, they bear checking out was well.

The overall strangeness of the trip continues on when I run into Tobin Ellis at the Rhumbar at the Mirage, but THAT is another story entirely.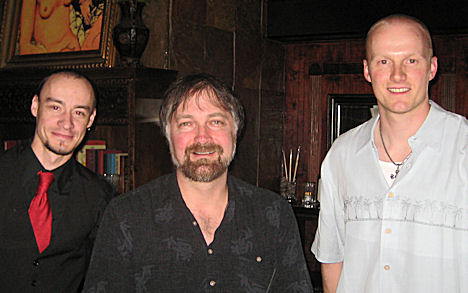 Carey and Tom, with me at the bar at the Artisan Hotel